Wharton's Electric, Inc., a Family Owned & Operated Business
Founded in 1960 by Raymond and Pam Wharton. Wiring new houses & up-grading existing electrical system was the primary scope of work for the first few years.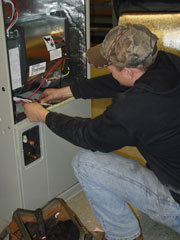 The company then became an Authorized Electric Heating Dealer for the Potomac Edison Power Company in 1964. That same year, Wharton's Electric had a retail store in Burton's Shopping Center in LaVale, MD. This store featured a lighting fixture display and sold electrical equipment to the public.
In 1968, the company expanded into gas and electric heating & air conditioning installation and service. WEI became a dealer for Sears Roebuck Company, installing Sears furnaces, boilers, air conditioners, well pumps and water heaters. WEI also began installing and servicing commercial restaurant equipment including ice machines, gas and electric ovens, stoves, steamers, deep fryers, microwaves, waste grinders and dishwashers. Service and installation were performed on all types of refrigeration equipment such as reach-in coolers and freezers and walk-in boxes for coolers and freezers.
Service expanded with the installation of roof top heating/cooling equipment, swamp coolers, HVAC and exhaust fans.
At the present, all of the above are still performed with the addition of some plumbing and sheet metal services along with mechanical contracting. Free estimates are given on upgrading electrical service and heating & cooling jobs. Emergency service is available after hours from 4:00 pm to 7:00am. The business moved from 54 Parkside Blvd to 40 National Highway in 1989. The founders sons, Tab & Todd Wharton took over operations in 2004 and continue to expand and improve the company. Good, prompt service is provided and that is what the company was built on since 1960.
MD Master Electrician License: #1284
MD Master Plumber License: #16698
MD Master HVACR License: #6880
MD Home Improvement Contractor License: #1716
WV Master Electrician License: #M00360
Hours of Operation:
Monday through Friday 7:30 am to 4:00 pm
Emergency Service After Hours
Phone Number: 301-722-7750
FAX Number: 301-722-6673